On March 16, 2022, Chairman Lei Wang, Vice President Yizhai Qi and Vice President Jia Cao of Zhongke Wenge Corp. came to SEM for a visit. Prof. Jianping Li, Executive Vice President of SEM, Prof. Yi Hu, Executive Vice Dean of the School of Innovation and Entrepreneurship, Prof. Guanghui Zhou and Prof. Shuming Wang of SEM, Prof. Dengsheng Wu of the Institute of Science and Development of the Chinese Academy of Sciences, and Dr. Jun Hao of SEM attended the meeting.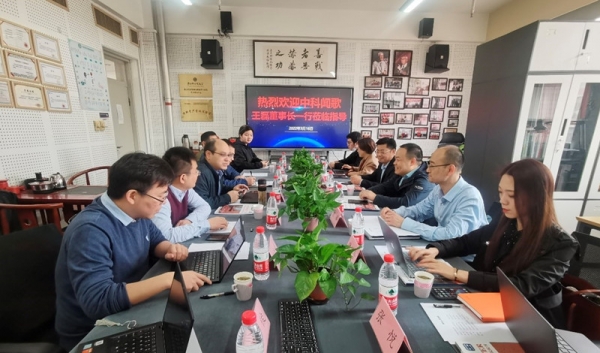 Jianping Li first extended a warm welcome to guests from Zhongke Wenge. He systematically introduced the discipline characteristics, faculty, laboratory and other research and education platform construction of SEM, and pointed out that the research direction of digital economy monitoring, prediction and early warning and policy simulation of SEM and the technical breakthrough path of Zhongke Wenge are very consistent. He hoped that the two parties would carry out multi-field and deep-seated practical cooperation in the future.
Lei Wang introduced in detail the development, strategic positioning, main business, industrial products and key R & D directions of Zhongke Wenge, and put forward cooperation in the fields of information visual management platform construction, scientific research and talent training with SEM and SIE
The participants also conducted in-depth discussions and exchanges on the areas where the two parties can cooperate, and preliminarily reached a consensus on cooperation in scientific research projects, training, think tank construction and etc.