On April 23, 2022, SEM postgraduate and summer camp admission presentations was held online and attracted a large number of viewers.
The morning session was presided over by Professor Jianping Li, executive vice dean of SEM. Professor Yongmiao Hong, Dean of SEM, Professor Yingjie Tian, vice dean, Professor Xiaoguang Yang, Professor Cuihong Yang and Professor Yong Shi made presentations. They introduced the general situation, disciplines, enrollment and faculty of the school from different perspectives.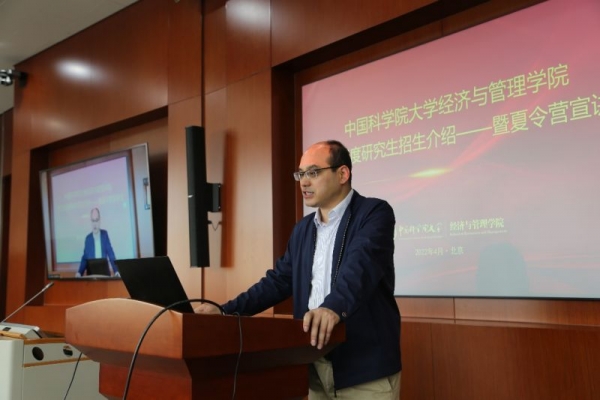 Professor Jianping Li
Professor Yongmiao Hong introduced the history of SEM, her discipline construction and faculty. With the mission of " conduct world-leading research, contribute new ideas, and educate future leaders for the benefit of society " and the vision of " to be recognized as a world leading research-oriented business school that shapes theories and practices of management", the school has continuously improved the teaching methods, steadily promoted the teaching reform, and has made great progress. Professor Hong also expressed his expectations of outstanding students joining SEM for further study.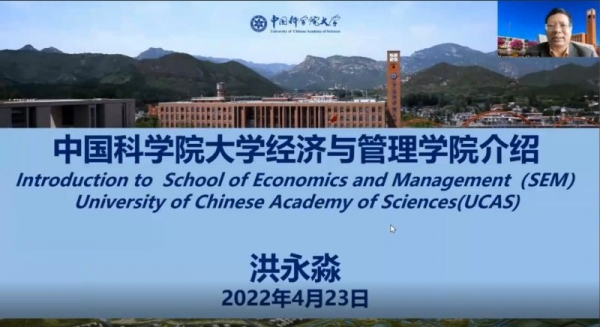 Dean Hong made introduction
Professor Yingjie Tian introduced the enrollment of doctoral and master programs of SEM. He described in detail the discipline construction, specialty, discipline characteristics, research directions, and faculty. He also introduced the program objectives, teaching models, and employment of graduates. Students are welcome to apply for SEM.
Professor Xiaoguang Yang mainly introduced the financial discipline of SEM. He said that the graduates in finance can go in for academic research in the field of economy, finance and management, and practical operation and management of industry and government departments. He also introduced the excellent faculty of the finance discipline at SEM and the research fields involved, such as financial metrology, financial engineering and portfolio optimization, financial risk management, financial market and asset pricing, corporate finance, international finance, energy and environmental finance, real estate finance, behavioral finance, etc.
Professor Cuihong Yang introduced the scientific research and faculty of Quantitative Economics and Industrial Economics respectively. Quantitative Economics is a distinctive traditional advantageous direction of SEM. Its research mainly focuses on econometric theory and model, input-output sharing, prediction, model average, nonparametric statistics, and has achieved a number of original research outcomes with important academic value and application value. Industrial Economics is an emerging subject of Applied Economics. In recent years, the research of Industrial Economics of SEM has made outstanding progress in some emerging fields. The discipline focuses on the international frontier in this field, carring out research on theories, models and methods, finding research problems from major national needs. It engages in putting forward new theories, models and methods, and the development of decision support system, and submitting corresponding research reports and policy suggestions for major domestic and international problems encountered in economy and society to serve the decision-making of national leaders and relevant decision-making departments. Professor Yang also showed some influential scientific research work of the discipline.
Professor Yong Shi introduced the discipline of big data mining and intelligent knowledge management and the faculty, and made a brief report entitled "Big data analysis and digital economy". The report described the basic problems of big data and digital economy, the relationship between the target of double carbon and digital economy, and the development of digital economy in China. He also clarified the research direction, social value and future prospect of statistics and data science through cases.
The afternoon session was presided over by Professor Ping LYu. Professor Shouyang Wang, former Dean of SEM, Associate Professor Fang Liu, Professor Hong Zhao and Professor Chaoying Tang made presentations respectively.
Professor Shouyang Wang made a report entitled "Management science: the way to prosper the country". He described in detail 11 representative scientific research achievements of SEM so that the audience could have a deeper understanding of what SEM had done in research. Professor Wang also excellent faculty, advanced laboratories and research platforms, extensive international cooperation network, close school enterprise cooperation network, good accommodation conditions, excellent courses, perfect scholarship system, the best library, and academic exchange opportunities, etc.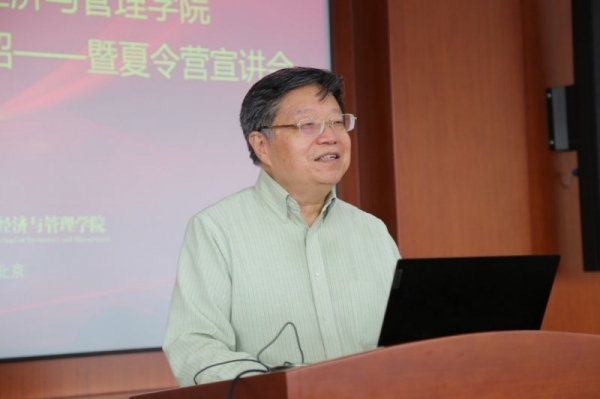 Professor Shouyang Wang
Associate Professor Fang Liu introduced the major of Management Science and Engineering from three aspects: academic lectures, professional tutors and research cases. The current academic lecture series include the " Gregory Chow Lecture" Young Scholars Forum, which is a series of academic reports for the whole school, covering a wide range and helping to broaden horizons and find research topics. "SEM Management Science" Young Scholars Forum is held at a fixed time every week. Experts and scholars at home and abroad are invited to make reports on frontier topics. Faculty and students may have one-on-one exchanges with experts. SEM Brown Bag Seminar is mainly for teachers and doctoral students to share scientific research achievements to obtain feedback. She also introduced in detail the graduate tutor of the Department of Management Science and Engineering.
Professor Hong Zhao introduced the research of business administration discipline. She mentioned that more than 90% of the students in the business administration discipline come from 985 or 211 universities. The graduates mainly go to large domestic and foreign enterprises, and some doctoral graduates hold teaching posts in colleges and universities. SEM has established extensive cooperation with well-known universities at home and abroad. Many teachers have won the national public visiting scholar program to conduct academic exchanges and visits to well-known universities such as Stanford University, and many students have studied in universities such as MIT. SEM can provide students with broad educational and scientific research platforms and students are welcome to apply for SEM.
Professor Chaoying Tang mainly introduced the innovation management discipline of SEM. She introduced the research directions of innovation and creation, creativity and social capital, social network analysis methods and other perspectives from the perspective of social network, as well as the cutting-edge research topics of this discipline. She also introduced the postgraduate tutors of this discipline, and hopes that students apply for the major of innovation management.